Redevelopment Plans Unveiled for Hollywood's 6800 Sunset Boulevard
Hart House Faces Transformation as Galaxy Commercial Holdings Proposes Ambitious Project
In a recent development, Galaxy Commercial Holdings, the property owner of the bustling intersection at Sunset Boulevard and Highland Avenue in Hollywood, has filed an application with the Los Angeles Department of City Planning. The aim is to seek approvals for an expansive mixed-use complex at 6800 Sunset Boulevard, the current location of Kevin Hart's vegan flagship, Hart House.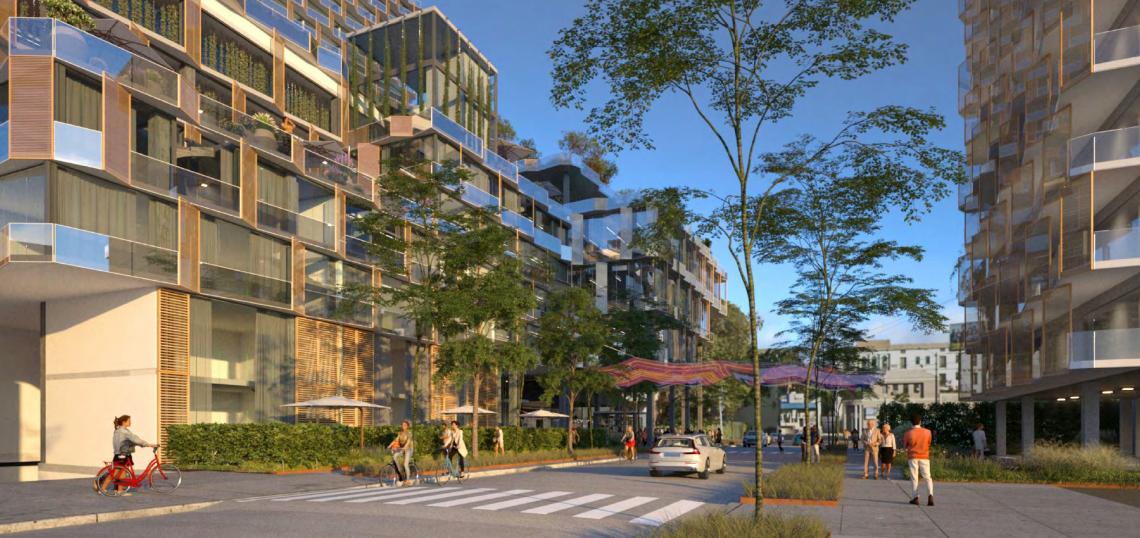 ---
The Visionary Project:
Sunset & Highland Tower Complex
Gensler to Design 42-Story Tower Featuring Apartments, Hotel Rooms, and Commercial Space
The proposed project is set to redefine the Hollywood skyline with a two-building development, prominently featuring the Sunset & Highland tower. Designed by Gensler, this 42-story marvel will house 298 studio, one-, two-, and three-bedroom apartments, alongside 115 hotel rooms and ground-floor commercial space.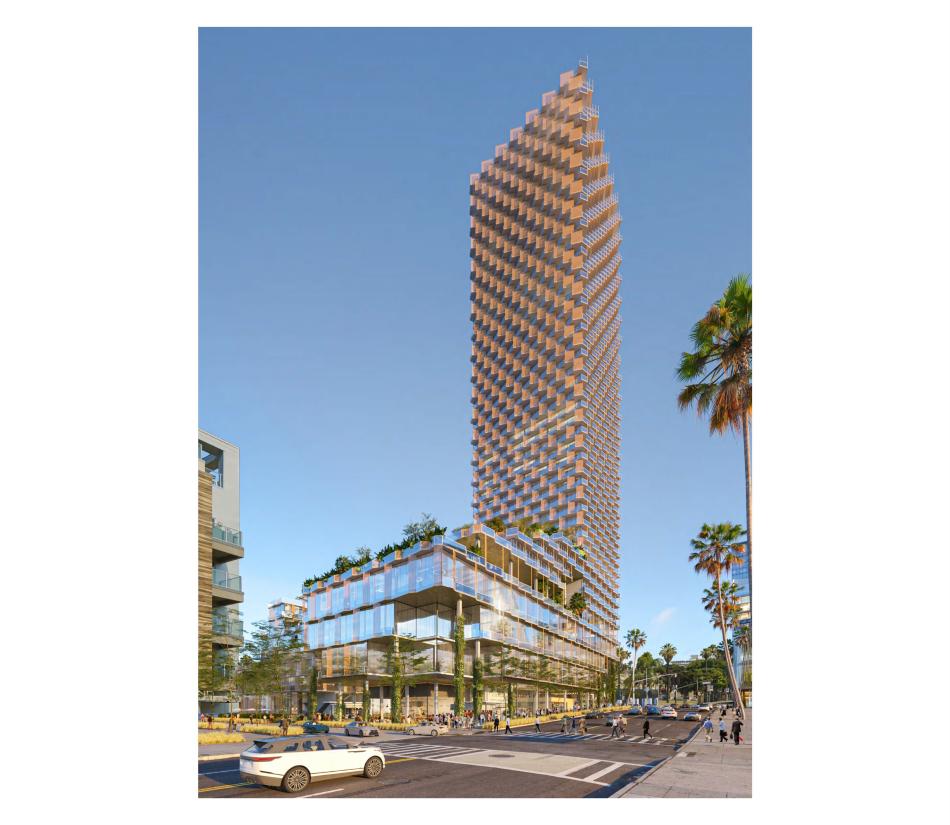 ---
Affordable Housing Inclusion
Strategic Approach to Qualify for Density Bonus Incentives
In a strategic move, the project includes a 12-story building along Leland Way, providing 80 units of affordable housing for seniors at very low-income levels. This thoughtful inclusion is intended to make the development eligible for density bonus incentives, allowing waivers from specific development standards.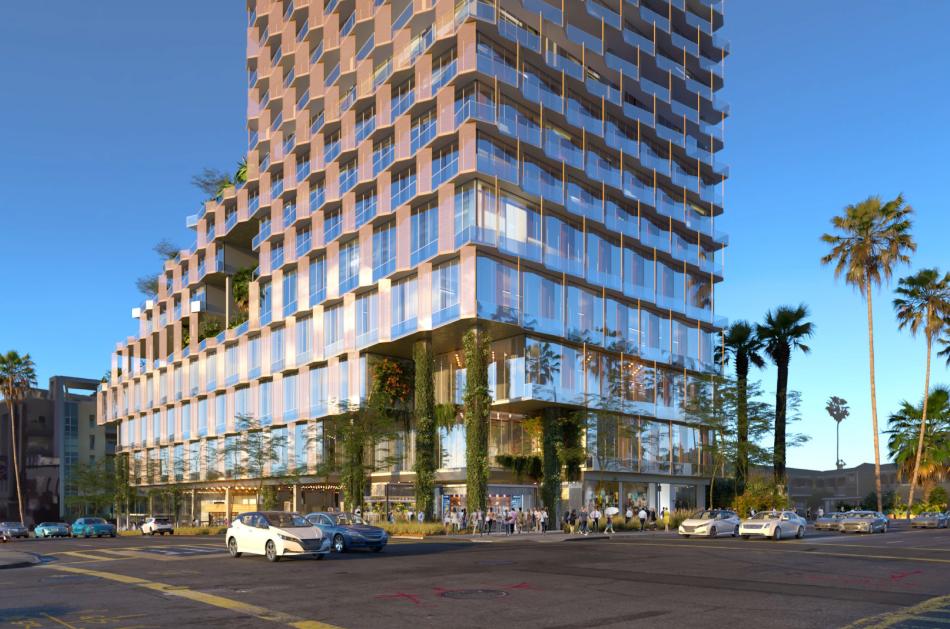 ---
Architectural Highlights:
Contemporary Aesthetic by Gensler
Glass, Undulating Facades, and Metal Screens Shape the Tower's Exterior
Gensler's design envisions a tower rising to a maximum height of 520 feet above street level. Renderings showcase a contemporary exterior characterized by a blend of glass, an undulating facade pattern, and metal screens. Amenity decks and landscaped areas across terrace roofs add a touch of modern luxury to the ambitious project.
---
Neighborhood Transformation:
A Trend Unfolding
Sunset and Highland Intersection Attracts Major Developments
Galaxy Commercial Holdings' project isn't the only one seeking to redefine the Sunset and Highland intersection. CMNTY Culture, led by Philip Lawrence and Thomas St. John, plans a mixed-use complex with a 14-story entertainment venue across the street. Additionally, the approved Crossroads Hollywood development promises 950 apartments, a 308-room hotel, and significant commercial space in buildings up to 32 stories.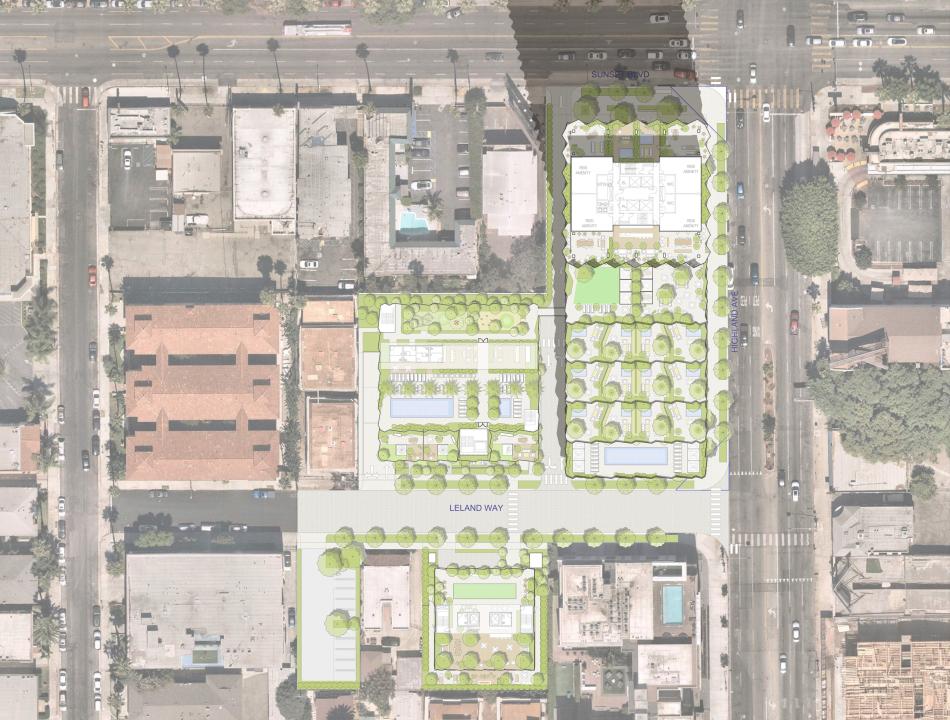 ---
Galaxy Commercial Holdings:
A Player in LA Developments
Vue Tower Challenges and Success at 511 Harbor Boulevard
Galaxy Commercial Holdings, the driving force behind this project, has left its mark on Los Angeles developments. The Vue residential tower in Downtown San Pedro faced challenges, while the mixed-use residential project at 511 Harbor Boulevard, now under construction after being sold to Trammell Crow Company, highlights the company's resilience and success.
Reladted more
Advocates in Nova Scotia Call for Increased Cancer Screening for Women with Dense Breasts
Breakthrough Blood Test for Early Cancer Detection
Copyright © 2023 | WordPress Theme by MH Themes